Denton, TX, Air Conditioning Services
Experience the difference with our top-rated air conditioning services in Denton, TX. We also proudly serve the communities of Northlake and Lewisville. Call us today to discuss your cooling needs!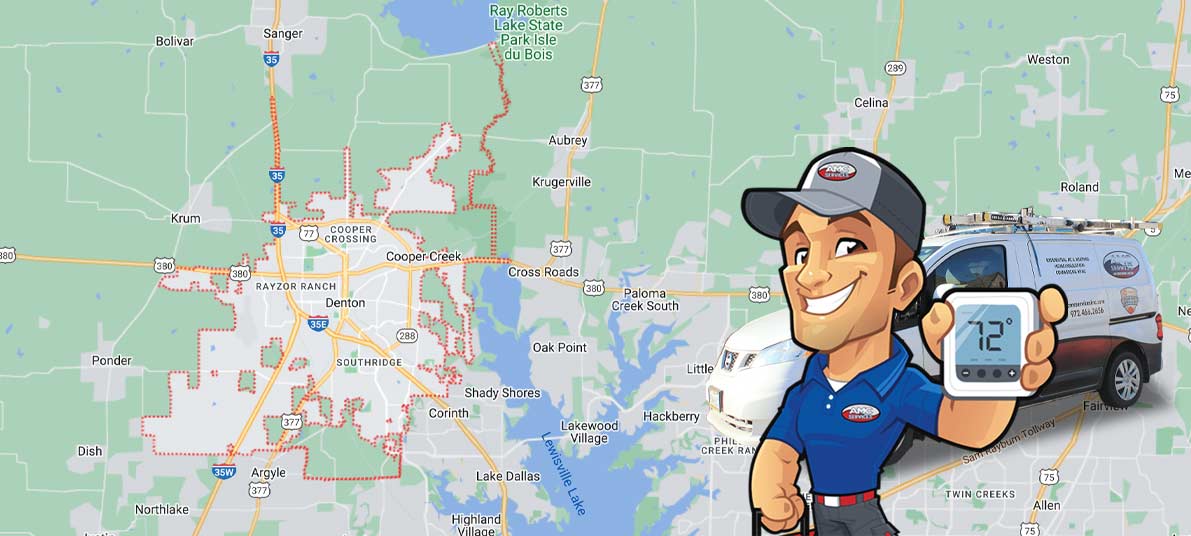 Are you sweltering in the Texas heat because your air conditioner isn't working properly? At AMC Services, Inc., we understand how crucial a well-functioning AC system is, especially during the hot summer months in Denton, TX.
We offer same-day service and straightforward pricing, making the process of getting your AC repaired or replaced as hassle-free as possible. Our professional, efficient, and knowledgeable technicians are ready to help you stay cool and comfortable.
Look to us for the following AC solutions:
Maintain a warm and comfortable home for your family. We provide top-notch heating services to ensure your comfort all year round.
AC System Inspections and Diagnostics in Denton, TX & North Texas
Regular AC system inspections and diagnostics can prevent minor issues from turning into major problems. That's where we at AMC Services, Inc. come in.
Our technicians have the training to identify and fix potential problems before they cause a system breakdown. We use state-of-the-art equipment and techniques to ensure your AC system is running at its best.
With our reliable, affordable, and professional service, you can trust our air conditioning service company to keep your AC system in top condition, whether you need a fast repair or emergency air conditioner replacement.
Common AC Problems in the Dallas-Fort Worth Metroplex
Common problems that our AC contractors frequently resolve include:
Refrigerant leaks: Leaks can cause temperature fluctuations. Our air conditioning contractors can fix leaks and recharge your system.
Sensor issues: Misplaced sensors can cause erratic air conditioning behavior. We can adjust the sensor for optimal functioning.
Electric control failure: Our team can check and service worn-out compressor and fan controls.
Dirty or clogged filters: These can reduce your system's efficiency. We can clean or replace your filters for optimal performance.
As an AC company Denton residents rely on, AMC Services, Inc. can diagnose and fix these problems, ensuring your AC system runs smoothly and efficiently. Trust our AC service company for top-notch air conditioning service in Denton, TX, & Dallas-Fort Worth.
Keep your home healthy and comfortable with fresh indoor air. Call us for comprehensive indoor air quality solutions in Denton, TX, and beyond.
Signs Your System Needs Repairs in Denton, TX & Dallas-Fort Worth Area
If your AC system is making strange noises, not cooling your home properly, or causing your energy bills to spike, it may need repairs.
At AMC Services, Inc., our trustworthy technicians undergo drug testing and background checks, but they are also honest, on time, and very friendly. They will listen to your concerns, diagnose the problem, and provide a fair price for the necessary repairs.
When you need air conditioning services in Denton, TX, trust the professionals at AMC Services, Inc. We also proudly serve the communities of Argyle and Corinth. Call us today at 972-466-2656 to schedule your routine or emergency AC repair service.