Denton, TX, Heating Services
For top-notch heating services in Denton, TX, and surrounding areas like Argyle and Lantana, reach out to us today to discuss your needs.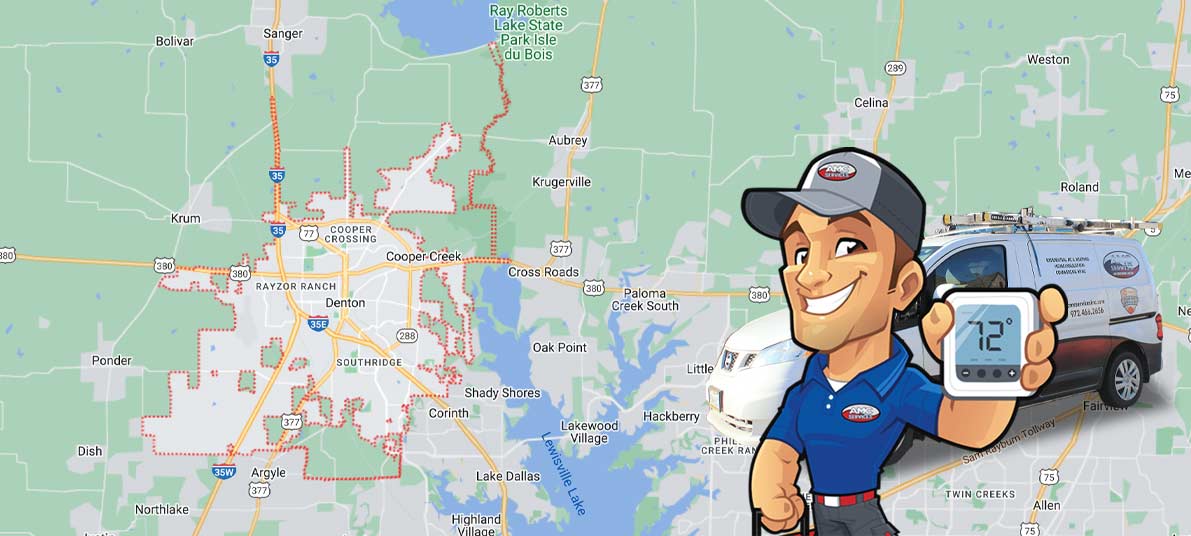 Are you feeling the chill in your Denton, TX, home? Don't let a faulty heating system leave you in the cold. At AMC Services, Inc., we understand the importance of a warm and comfortable home.
That's why we offer same-day heating services, ensuring your home stays cozy no matter the weather outside. Our trustworthy, drug-tested, and background-checked technicians are ready to serve you with our straightforward, flat-rate pricing.
When you need a reliable and skilled furnace contractor, you need AMC Services Inc. We offer the following heating solutions:
Struggling to keep the air indoors healthy and enjoyable? Our professional indoor air quality services can help.
What You Can Expect From a Routine Maintenance Visit in Denton and North Texas
Routine maintenance is key to the longevity and efficiency of your heating system. During a routine visit, our technicians will thoroughly inspect your system, clean essential components, and identify any potential issues.
This proactive approach brought to you by AMC Services, Inc. helps prevent unexpected breakdowns, saving you time and money in the long run.
Benefits of Installing a New Heating or Furnace System in The Dallas-Fort Worth Metroplex
A new heating system can offer numerous benefits, including improved energy efficiency, lower utility bills, and enhanced indoor comfort.
As a Mitsubishi Diamond Elite Dealer, our furnace service company provides high-quality heating systems designed to meet your specific needs and budget.
Want to maximize your home's energy efficiency? Contact AMC Services, Inc. to schedule routine furnace maintenance.
Signs That You Need Heater Replacement in Denton, TX & Dallas-Fort Worth Area
Understanding when your heater needs replacement is vital for home comfort. It may be time to call the heating service company if you notice the following:
Frequent breakdowns: Constant repairs suggest your heater is nearing its end. A new system offers reliability and efficiency.
Strange noises: Unusual sounds like banging or squealing can indicate serious internal issues, suggesting your system is overworking.
Uneven heating: Cold spots in your home may mean your heater struggles with heat distribution, possibly due to ductwork issues or a failing furnace.
Rising energy bills: If bills increase without more usage, your system might be losing efficiency.
System age: Heaters typically last 15 to 20 years. If yours is within this range and problematic, replacement might be more cost-effective.
At AMC Services, Inc., our technicians can assess your system, identify these signs, and provide professional advice. We offer 24/7 emergency service and a satisfaction guarantee, making us your reliable heating solution in Denton, TX, and the Dallas-Fort Worth Area.
Don't let a faulty heating system disrupt your comfort. Call AMC Services, Inc. heating contractor at 972-466-2656 for reliable heating services in Denton, TX, and other areas like Corinth and Highland Village. Trust us to keep your home warm and cozy.