Flower Mound, TX, Cooling Services
For top-notch Flower Mound cooling services in Denton, Argyle, or Lantana, reach out to us at AMC Services, Inc. We're ready to discuss your needs and provide the best solutions.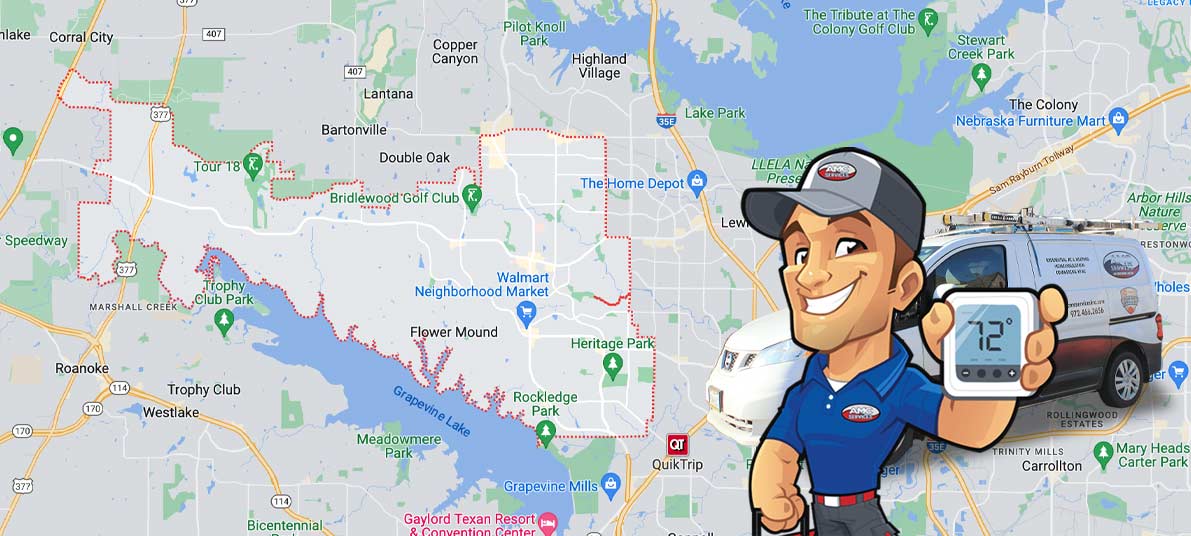 Is your AC unit failing to keep your home cool during the sweltering Texas summer? You're not alone. At AMC Services, Inc., we understand how crucial a well-functioning air conditioner is for your comfort and health.
Based in Denton, TX, we offer same-day Flower Mound cooling services, ensuring your home stays cool and comfortable. With our straightforward pricing, you'll know exactly what you're paying for, with no hidden costs or surprises.
Check out our customer reviews to see what others say about working with our team of friendly AC contractors!
Emergency AC Services in Denton County
When your AC unit breaks down in the middle of a hot summer day, it's not just an inconvenience—it's a full-blown emergency. That's why we offer 24/7 emergency AC repair services.
At AMC Services, Inc., we can handle a wide range of issues, ensuring your system is back up and running in no time. Our emergency AC repair services cover:
Refrigerant leaks: We locate and fix leaks for optimal system operation.
Faulty compressors: We repair or replace malfunctioning compressors to restore system functionality.
Broken fans: Our team repairs or replaces fans for even cooling.
Thermostat issues: We diagnose and fix thermostat problems for better temperature control.
Electrical problems: Our technicians safely handle electrical issues to prevent system malfunctions.
With the AMC Services, Inc. team, you can rest assured that help is just a phone call away in Flower Mound, TX, and the surrounding area, any time of the day or night.
AC Repair & Replacement Services in the Dallas-Fort Worth Metroplex
Sometimes, an AC unit is beyond repair or not worth the cost of fixing. In such cases, our professional, efficient, and knowledgeable team can help you choose and install a new, energy-efficient system.
As a Mitsubishi Diamond Elite Dealer, AMC Services, Inc. offers top-quality air conditioning installation and other Flower Mound cooling services, ensuring your new unit delivers optimal performance.
Want to know more about us and why we're Flower Mound, TX's favorite contractors for ductless and central air conditioning? Give us a call!
Ductless Mini-Split Services in Denton, TX & Dallas-Fort Worth Area
If you're looking for a more energy-efficient cooling solution, consider a ductless mini-split system. These systems offer excellent energy efficiency, reducing your carbon footprint and energy bills.
AMC Services, Inc. is here to ensure you enjoy a comfortable indoor environment year-round! Our fantastic technicians are very attentive and can install, repair, and maintain these systems.
Recent Jobs and Reviews in Flower Mound, TX
When you need reliable and professional cooling services, call AMC Services, Inc. at 972-466-2656. We proudly serve Denton, TX, and other areas, including Highland Village and Flower Mound, TX. Trust us to keep your home cool and comfortable, no matter how hot it gets outside.