Lantana, TX, Cooling Services
Beat the heat in Flower Mound, Northlake, or Lantana, TX. Contact us for all your cooling needs today!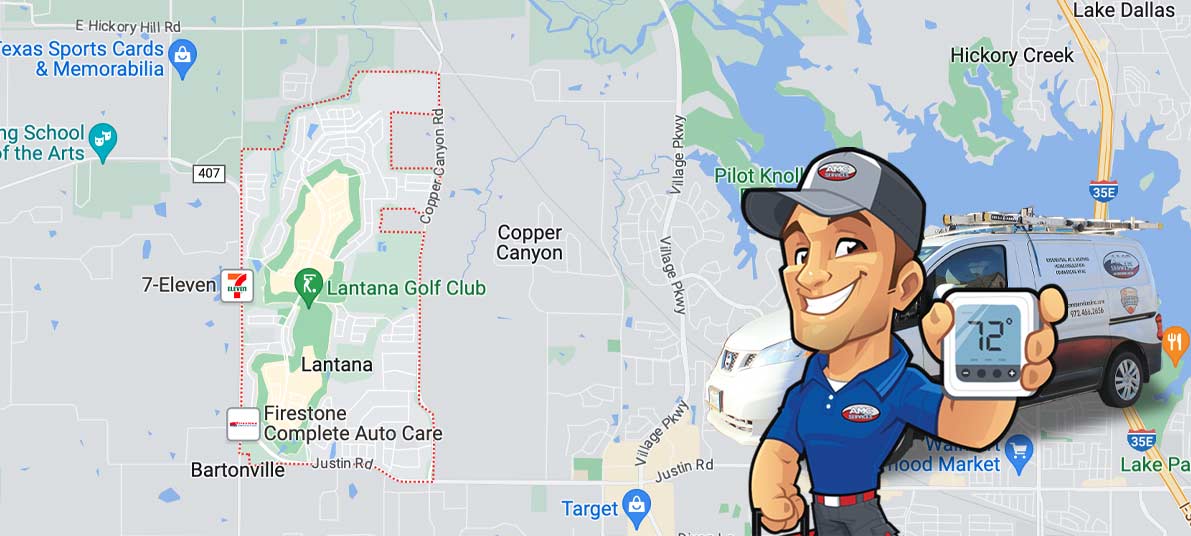 Is your home feeling more like a sauna than a sanctuary in Lantana, TX? At AMC Services, Inc., we know how unbearable the Texas heat can be when your air conditioning isn't working properly.
That's why we offer comprehensive Lantana cooling services, including emergency AC repair, AC maintenance, and air conditioning installation.
Don't just take our word for it. Check out our reviews to see what our satisfied customers in Lantana, TX, and beyond have to say about our services.
Emergency AC Services in the Dallas-Fort Worth Area
When your air conditioner fails during a heatwave, it's more than just uncomfortable. It's an emergency. Here are a few AC emergencies that require immediate attention:
Complete loss of cooling
Unusual noises or smells from the unit
Frequent cycling on and off
Water leaks around the unit
In such cases, don't hesitate to call AMC Services, Inc. for emergency AC repair. Our team of drug-tested and background-checked technicians is ready to assist you 24/7 with reliable cooling services in Lantana, TX.
Top AC Repair & Replacement Services in Denton County
A malfunctioning air conditioner can lead to a hot, uncomfortable home and high energy bills. Usually, we can fix most issues and get your unit up and running. However, several signs could indicate that it might be time to replace your old AC unit rather than repair it:
Age: Most air conditioners last between ten to 15 years. If your air conditioner is within this age range, it might be more cost-effective to replace it rather than repair it.
Frequent repairs: The cost of continuous repairs can quickly add up, making replacement a more economical choice.
Rising energy bills: If your energy bills are increasing despite no change in your usage habits, your unit might be losing efficiency.
Inadequate cooling: If your air conditioner can't cool your home effectively, even with proper maintenance, it might be time for a replacement.
Excessive noise or odor: If your air conditioner is noisier or smellier than usual, it might be time for a replacement.
As a Mitsubishi Diamond Elite Dealer, AMC Services, Inc. offers high-quality AC replacements when your old one is beyond repair.
Want to learn more about us and our Lantana cooling services? Give us a call and see why we're to go-to AC contractor in Lantana, TX.
Ductless Mini-Split Services in the Greater Denton Area
Ductless mini-splits are an efficient and flexible cooling option, perfect for homes without ductwork or cooling individual rooms.
However, they can develop issues like refrigerant leaks, sensor problems, and drainage issues. At AMC Services, Inc., we're experts in fixing these and other issues. Our trusted technicians are available for emergency 24/7 service with satisfaction guaranteed!
Recent Jobs and Reviews in Lantana, TX
Don't let faulty mini-split or central air conditioning ruin your comfort. Call AMC Services, Inc. at 972-466-2656 for reliable cooling services in Lantana, TX, including Argyle and Corinth.