Lantana, TX, Heating Services
Keep the cold from getting to you in Corinth, Highland Village, and Lantana, TX. Reach out to us for all your heating needs today!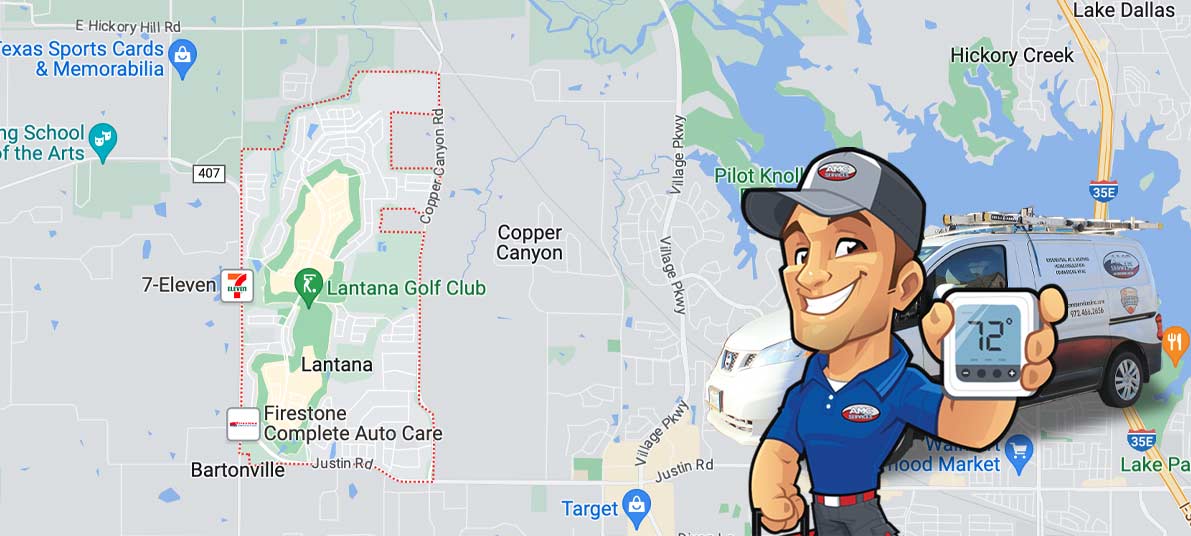 Are you shivering in your own home in Lantana, TX, even with the heater on? At AMC Services, Inc., we understand how frustrating and uncomfortable it can be when your heating system isn't working as it should.
We offer top-notch heating services, including emergency furnace repair, central heating installation, and furnace tune ups. With our same-day service and straightforward pricing, you can rest assured that we'll get your home warm and cozy in no time.
Don't just take our word for it! Check out our reviews to see what our satisfied customers in Lantana, TX, and beyond have to say about our services.
Emergency Heater Repair in the Dallas-Fort Worth Area
When your heater fails in the middle of a cold night, it's not just a matter of comfort. It's an emergency.
Issues like a malfunctioning thermostat, a broken heat exchanger, or a faulty ignition switch can all lead to needing an emergency heating contractor. Here's what you should do in such a situation:
Check your thermostat and circuit breaker
Avoid using any malfunctioning equipment
Call a furnace service company
AMC Services, Inc. is here to provide emergency furnace repair service for your convenience and peace of mind. Our team of trustworthy technicians, all drug-tested and background-checked, are ready to assist you with 24/7 heating services in Lantana, TX, and beyond.
Furnace Repair & Replacement Services in Denton County
Common furnace issues include a dirty filter, wear and tear, and a faulty thermostat. At AMC Services, Inc., we'll inspect your furnace, identify the problem, and recommend whether a repair or replacement is necessary.
As a Mitsubishi Diamond Elite Dealer, we offer high-quality furnace replacements when your old one is beyond repair. We also provide three financing plans through Wells Fargo to make your new furnace installation more affordable.
Want to learn more about us and our heating services in Lantana, TX? Reach out to us now!
Heat Pump Repair & Replacement in the Greater Denton Area
Heat pumps are an energy-efficient alternative to traditional heating systems, providing heating and cooling for your home. However, like any equipment, they can develop issues such as:
Refrigerant leaks: If your heat pump is low on refrigerant, it can't effectively transfer heat.
Frozen coils: Heat pumps can freeze up during the winter, which can cause the system to stop working altogether.
Electrical problems: Faulty wiring, circuit breakers, or fuses can cause your heat pump to malfunction or not turn on at all.
Noisy operation: Unusual noises can indicate problems like loose parts, motor issues, or airflow restrictions.
At AMC Services, Inc., we're experts in fixing these and other heat pump issues.
Don't let a faulty heater ruin your comfort. Call AMC Services, Inc. at 972-466-2656 for reliable heating services in Lantana, TX, as well as Flower Mound and Northlake. We're here to keep you warm!