Lewisville, TX, Cooling Services
Don't let the Texas heat get the best of you. Reach out to us for top-notch Lewisville cooling services!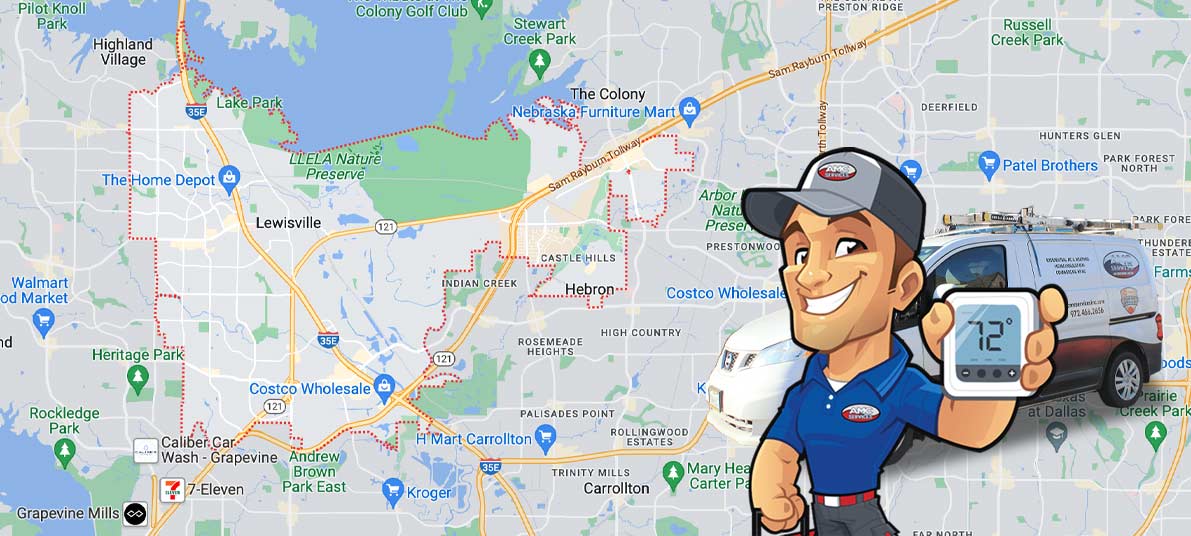 Are you struggling with a malfunctioning air conditioner in the sweltering heat of Lewisville, TX? At AMC Services, Inc., we know how crucial a well-functioning cooling system is for your comfort and health.
Our same-day service and straightforward pricing ensure your cooling needs are met promptly and efficiently. Trust our drug-tested and background-checked technicians to handle your cooling systems expertly—your satisfaction is guaranteed!
Why do your Lewisville neighbors love working with our AC contractors? Read our customer reviews to find out!
Emergency AC Services in Lewisville, Texas
When your central air conditioning system breaks down in the middle of a hot summer day, it's not just an inconvenience; it's an emergency. That's why AMC Services, Inc. offers 24/7 emergency AC repair services in Lewisville, TX, and beyond.
Our trustworthy, background-checked, and drug-tested technicians are always ready to restore your comfort. We can handle many issues, ensuring your cooling system is back up and running as quickly as possible.
Our Lewisville cooling services team can address the following types of AC emergency problems:
Refrigerant leaks: We locate and fix leaks, recharging your system to optimal levels.
Sensor problems: We adjust or replace malfunctioning sensors to restore proper air conditioner functioning.
Electric control failure: Our team identifies and replaces any faulty controls.
Drainage issues: We clear the condensate drain to prevent water damage.
Dirty or clogged filters: We clean or replace filters to maintain your air conditioner's efficiency.
No matter the issue, our team commits to providing prompt and efficient service to get your air conditioner back in top shape. Trust us to handle your emergency AC repair needs in the Dallas-Fort Worth metroplex.
Choose AC Repair & Replacement Services in Denton County
Sometimes, an air conditioner is beyond repair and needs to be replaced. As a Mitsubishi Diamond Elite Dealer, AMC Services, Inc. offer high-quality, energy-efficient air conditioners that can keep your home cool and your energy bills low.
Our professional, efficient, and knowledgeable technicians can guide you through the process, ensuring you choose the best unit for your air conditioning installation needs.
AMC Services, Inc. makes cooling services in Lewisville, TX, and beyond more affordable by offering flexible financing options. Reach out to us to learn more!
Ductless Mini-Split Services in the Dallas-Fort Worth Metroplex
Consider a ductless mini-split system if you're looking for a more flexible and energy-efficient cooling solution. These systems allow you to control the temperature in individual rooms, leading to significant energy savings.
AMC Services, Inc. is ready to serve you in Lewisville, TX, and the surrounding area! Our attentive team can install, repair, and maintain these systems, ensuring they operate at peak efficiency.
Recent Jobs and Reviews in Lewisville, TX
Don't let a faulty air conditioner ruin your comfort. Call AMC Services, Inc. at 972-466-2656 for professional cooling services in Lewisville, TX, including Highland Village and Flower Mound. We guarantee your satisfaction with our reliable, affordable, and professional service.