Lewisville, TX, Heating Services
Don't let the cold get to you in Denton or Northlake. Reach out to us at AMC Services, Inc. to discuss your heating needs today!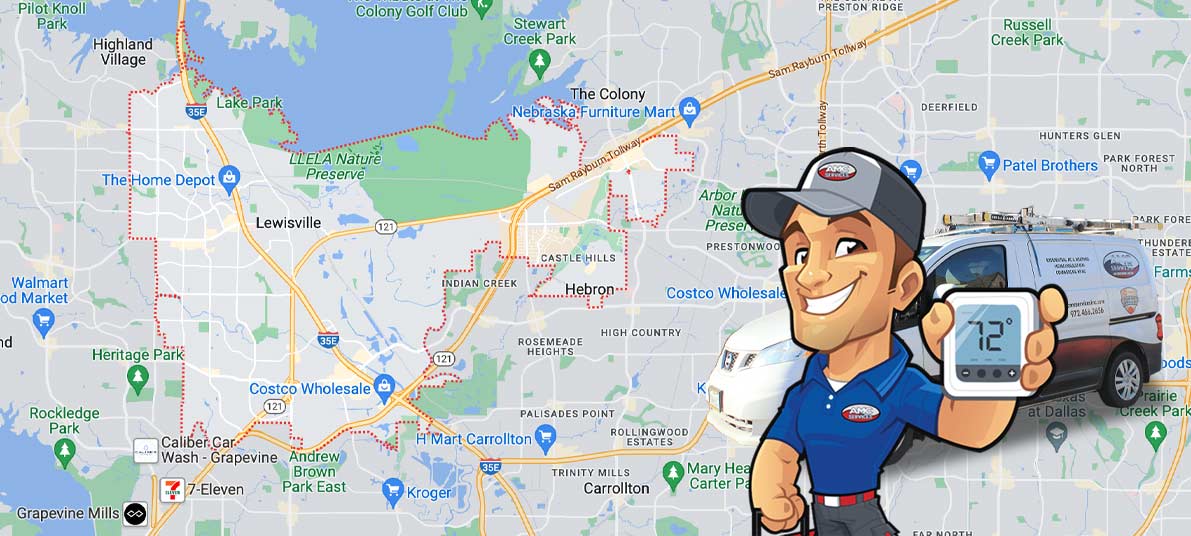 Are you feeling the chill in your home despite having the heater on? At AMC Services, Inc., we understand how frustrating it can be when your heating system isn't working as it should.
That's why we offer our Lewisville heating services, designed to restore warmth and comfort to your home. With our same-day service and straightforward pricing, you can trust us to handle your heating issues promptly and professionally.
See what others say about our reliable furnace service company by checking our customer reviews!
Emergency Heating Repair in the Dallas-Fort Worth Metroplex
When your heater breaks down in the middle of a cold night, you need a service team that can respond quickly. That's where AMC Services, Inc. comes in.
Our emergency furnace repair service is available 24/7 in Lewisville, TX, and the surrounding area, ensuring you're never left in the cold. Our technicians are trustworthy, background-checked, and attentive to your concerns.
At AMC Services, Inc., we can swiftly address various types of issues with our top-rated heater repair, including:
Faulty thermostats
Malfunctioning heat exchangers
Ignition or pilot control problems
Frequent cycling of the heater
Blower issues
By addressing these issues promptly and professionally, we can restore your home's warmth in no time, providing you with the peace of mind and Lewisville heating services you deserve.
Furnace Repair & Replacement Services in Denton County, TX
Regular furnace tune ups can extend the life of your heating system, but sometimes repairs or replacements are necessary. Whether you need a minor repair or a complete furnace installation in Lewisville, TX, and beyond, our team is up to the task!
At AMC Services, Inc., we're professional, efficient, and knowledgeable, offering fair prices for all our services. We can handle everything from central heating to more complex furnace problems, ensuring your home stays warm and cozy.
With our flexible financing options, you can rest easy knowing that finances don't have to prevent you from getting the Lewisville heating services you need.
Heat Pump Repair & Replacement in the Greater Denton Area
Heat pumps are an efficient way to heat your home, but like any system, they can experience issues. Whether it's a problem with the compressor or the reversing valve, our heating contractor services can diagnose and fix the issue.
At AMC Services, Inc., we're reliable, affordable, and professional, ensuring your heat pump runs at its best. Plus, as a Mitsubishi Diamond Elite Dealer, we can offer top-quality replacements and heating installations if necessary.
Don't let a faulty heating system leave you in the cold. Call AMC Services, Inc. at 972-466-2656 today. We proudly serve Lewisville, TX, including Argyle and Corinth. Let us bring the warmth back to your home.