Northlake, TX, Cooling Services
Experience the difference unmatched professionalism can make with our Northlake cooling services. Don't let the heat get you down in Argyle or Lantana. Call us today to discuss your cooling needs!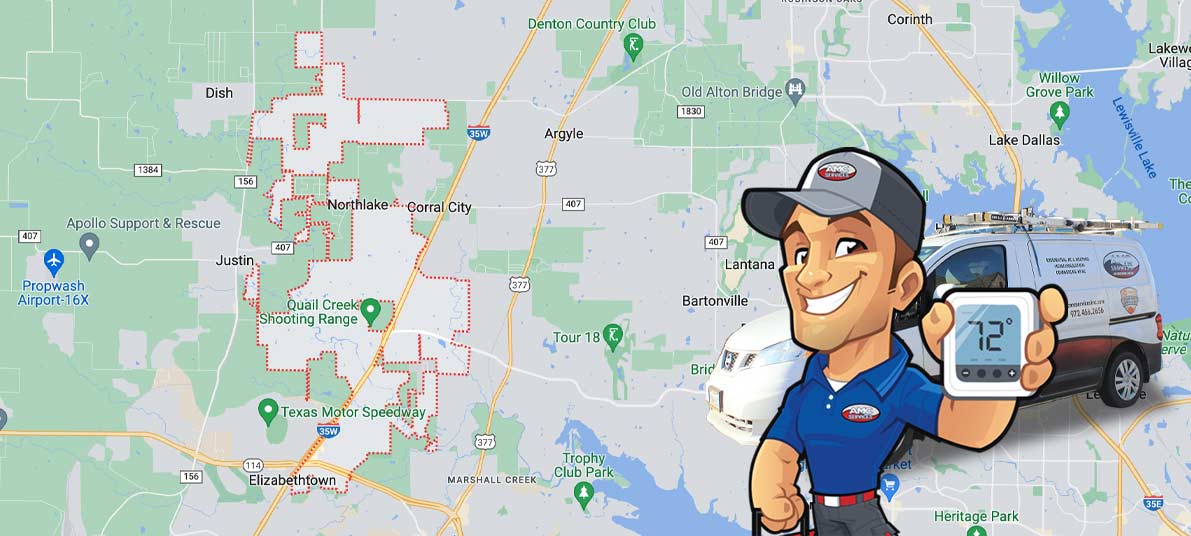 Are you tired of the relentless Texas heat making your home uncomfortable? At AMC Services, Inc., we understand your frustration. That's why we offer our cooling services in Northlake, TX, designed to restore your comfort quickly and efficiently.
With our same-day service and straightforward pricing, you can trust us to handle your cooling needs professionally. Rest assured that you're getting the best service possible with our satisfaction guarantee.
See what your neighbors say about working with our AC contractors by reading our customer reviews!
Emergency AC Services in Northlake, Texas
When your AC system fails, it can disrupt your comfort. But you don't need to worry with our AMC Services, Inc. team. Our 24/7 emergency AC repair services can restore your comfort swiftly.
Our drug-tested and background-checked technicians are ready to address your concerns. They are professional, efficient, and knowledgeable, capable of handling various AC issues.
Our emergency AC services include:
Fixing refrigerant leaks
Resolving electrical issues
Repairing mechanical wear and tear
Troubleshooting thermostat problems
Clearing clogged condensate drains
Trust our team at AMC Services, Inc. for reliable emergency AC services in Northlake, TX.
Finding the Right AC Repair & Replacement Service in Denton County
Even with regular maintenance, AC systems may require repairs or replacements. At AMC Services, Inc., we're here to help with fair pricing and a satisfaction guarantee, reflecting our commitment to quality.
Our punctual and helpful technicians ensure your central air conditioning system is back to peak performance swiftly. Our cooling services for Northlake, TX, and the surrounding areas include:
Diagnostic checks to identify issues
Repair or replacement of faulty components
System upgrades for energy efficiency
Regular maintenance to prevent breakdowns
24/7 emergency repairs
Using state-of-the-art equipment and meticulous attention to detail, we deliver long-lasting results that restore your home's cool, comfortable air.
Curious to learn more about us? Give us a call or schedule a service to see why we're Northlake's favorite cooling team!
Ductless Mini-Split Services in the North Texas Region
For energy-efficient cooling, consider our ductless mini-split services. As a Mitsubishi Diamond Elite Dealer, we provide top-quality products and expert air conditioning installation.
At AMC Services, Inc., we have honest, friendly, and attentive technicians who will install your system correctly and efficiently. Our ductless mini-split services include:
Home assessment and system recommendation
Professional installation of new systems
Regular maintenance for optimal efficiency
Prompt repair services
System replacement, if necessary
Trust AMC Services, Inc. for reliable, professional, and affordable cooling solutions! We offer same-day service backed by a satisfaction guarantee.
Recent Jobs and Reviews in Northlake, TX
Don't let the Texas heat ruin your home comfort! Call AMC Services, Inc. at 972-466-2656 today for professional cooling services in Northlake, TX. We also proudly serve the communities of Corinth and Highland Village!