Northlake, TX, Heating Services
Experience the difference of professional service with our Northlake heating services. Reach out to us today to discuss your needs in Argyle and Lantana!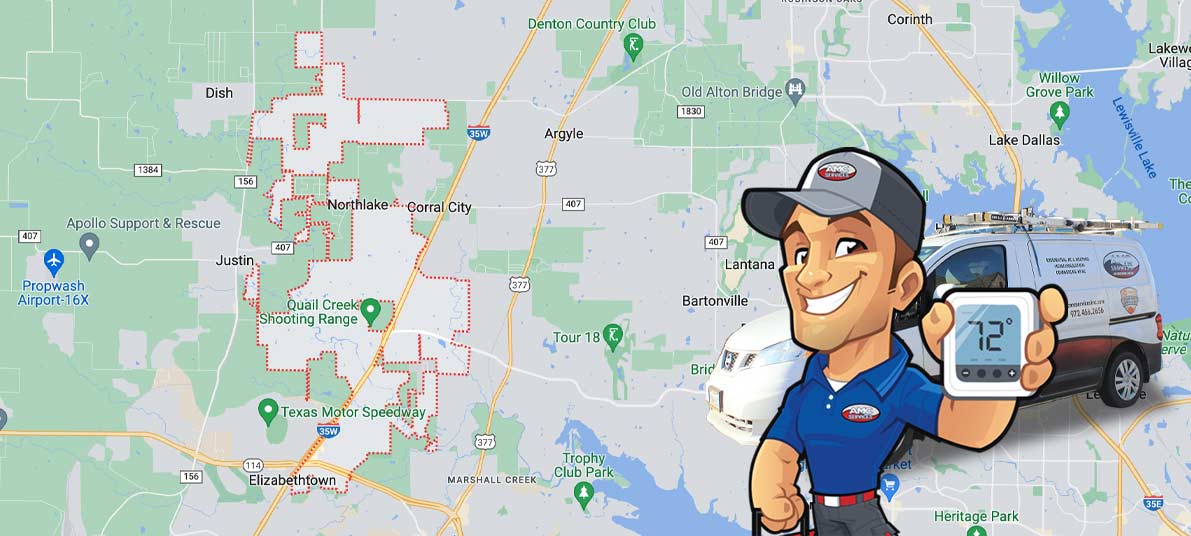 Are you tired of waking up to a cold house in the middle of winter? At AMC Services, Inc., we understand how frustrating it can be when your heating system fails.
That's why we offer our heating services in Northlake, TX, designed to keep your home warm and comfortable all year round. Our same-day service and straightforward pricing make the process as hassle-free as possible.
What makes us the go-to furnace service company in Northlake, TX? Read our customer reviews to see what others say about us!
Emergency Heating Repair in Northlake, Texas
When your heater breaks down in the middle of a cold night, you need a reliable heating contractor who can respond quickly. At AMC Services, Inc., we offer 24/7 emergency furnace repair service, ensuring you're never left in the cold.
Our trustworthy, drug-tested, and background-checked technicians are skilled at diagnosing and fixing a wide range of heating issues. Here's what you can expect from our heater repair service:
Prompt response: Our 24/7 availability means we're always ready to help when your heating system fails.
Expert diagnosis: Our technicians can quickly identify and provide solutions for various heating issues.
Efficient repairs: We work quickly and efficiently to restore your heater's functionality.
Transparent pricing: We provide precise, detailed estimates before starting any work.
Professional service: Our courteous technicians respect your home and are happy to answer any questions.
Trust our AMC Services, Inc. experts for all your emergency heating repair and Northlake heating services needs.
Furnace Repair & Replacement Services in Denton County
Your furnace is the heart of your central heating system. If it's not working correctly, it can lead to discomfort and higher energy bills.
Whether you need a simple furnace tune up or a complete furnace replacement in Northlake, TX, and beyond, AMC Services, Inc. has got you covered. Our professional, efficient, and knowledgeable technicians can handle any furnace repair service, ensuring your home stays warm and cozy.
Learn more about us to see why North Texas residents continue to choose us as their furnace installation, repair, and maintenance professionals.
Heat Pump Repair & Replacement in the North Texas Region
Heat pumps are an energy-efficient way to heat your home, but like any appliance, they can break down over time. If your heat pump is not heating your house effectively, it might be time for a repair or replacement.
AMC Services, Inc. is ready to serve you in Northlake, TX, and the surrounding area. Our fair pricing and satisfaction guarantee make us the go-to heating installation service in the area.
Don't let a broken heater ruin your comfort. Call AMC Services, Inc. at 972-466-2656 for professional heating services in Northlake, TX. We also proudly serve residents in Corinth and Highland Village!